Whether you want to invest in a new business or hope to sell an existing company, a professional business broker is the key to making your dream a reality. Jeff Bracegirdle and his "RE/MAX Business Brokers" team take a hands-on approach to help every client achieve their goals. As part of a global network of business brokers, Jeff has unlimited resources available to facilitate any business sale or purchase.
As the founder, leader, and repetitively the annual highest-ranking business sales broker, Jeff Bracegirdle has a proven record of success. Jeff is passionate about business sales and his one-on-one approach has earned him an international reputation as the best business broker in New Zealand.
In 2015, Jeff transitioned to devoting 100 percent of his time to selling businesses in New Zealand. After years of successfully developing and training his awarding winning team, he announced that whilst continuing to lead the team his time would now be fully dedicated to assisting clients throughout New Zealand and customers both nationally and internationally achieve their goals and objectives.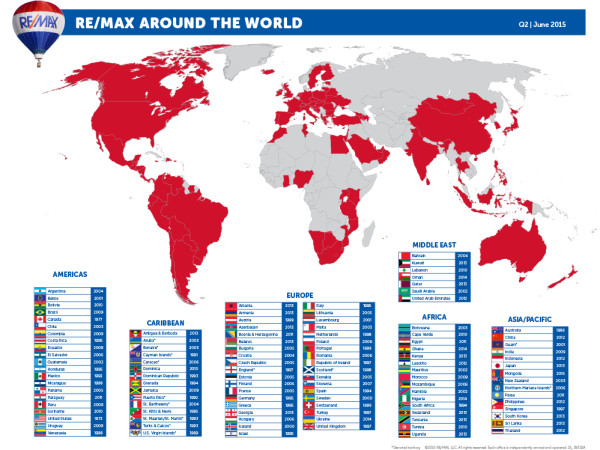 Why Choose New Zealand RE/MAX Business Brokers?
Instant connection to a vast network of buyers and sellers
One-on-one customer care for potential buyers
Innovative approach for potential sellers
30+ years background in Chartered Accountancy Internationally
Guaranteed confidentiality of sensitive commercial information
The RE/MAX Competitive Advantage
Did you know that RE/MAX is the largest real estate company in the world? You can find 7,000 offices and over 100,000 sales professionals working for RE/MAX in 100 countries around the world. With a global network of buyers and sellers, there are unlimited resources to make your business dreams come true.
RE/MAX has dedicated commercial brokers in 50 percent of the countries shown above. These highly trained agents completed 27,656 transactions in 2014 with sales reaching US$9.7 Billion! Even with all these agents working hard every day, New Zealand's RE/MAX Business Brokering team retained the #1 commercial real estate team in the world (outside of the United States and Canada) for the 6th year.
RE/MAX Commercial Services in New Zealand
Jeff Bracegirdle and his team of business brokers offer a wide spectrum of services, including:
Business Sales
Mergers & Acquisitions
Franchise Sales and Recruitment
Buyer Mandates
Commercial, Retail, and Industrial Property Sales
A Proven Record of Success
RE/MAX International has recognized the New Zealand's Business Broker Team as its number one commercial team outside of the US and Canada. In fact, Jeff Bracegirdle and his team have received this recognition for six of the last seven years.
If you are looking for the best business broker to assist you in your next business sale or purchase, contact Jeff today! With extensive knowledge of business sales and many years of experience, his proven record of success speaks for itself and may add value beyond your expectations.